50 Moments by Creating Keepsakes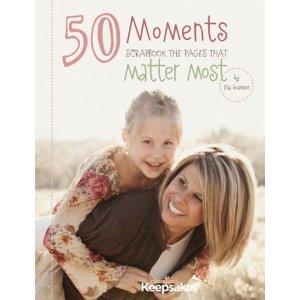 If you're wondering which parts of your life to scrapbook, take a look at 50 Moments by Creating Keepsakes. This helpful book will teach you to look at life like a scrapbook artist.
About Creating Keepsakes
Founded in 1996, Creating Keepsakes is a popular scrapbooking magazine and website. The print version of the magazine is available to subscribers for a few dollars an issue, but much of the web content is free.
The company has authored several books on scrapbooking, including the following:
Scrapbooking Friends and Family
Creativity Tips for Scrapbookers
Scrapbooking with Your Kids
Creating Keepsakes: Scrapbooking Family Heritage
Award-Winning Scrapbook Pages
About 50 Moments by Creating Keepsakes
50 Moments is designed to help scrapbooking enthusiasts identify the most important moments to include in a scrapbook. In addition to scrapbook page layout ideas, the book features questions to help scrapbookers create journal entries. 50 Moments was published in 2008 and retails for just under $20.
The book is 160 pages long and includes over 150 new scrapbook layouts. Most of the layouts in 50 Moments can be easily recreated by scapbooking experts or beginners, and the majority of the pages can also be created in a digital scrapbook format. The book also has a plethora of inspirational quotes to include in your designs.
Lisa Bearnson
50 Moments is written by Creating Keepsakes' editor and co-founder, Lisa Bearnson. Bearnson authored eight other books before 50 Moments, and they had a combined sales volume of over 725,000 copies. She's written about everything from scrapbooking your wedding to creating a Disney-themed memory book. She is a spokeperson for scrapbooking and the scrapbook industry, and she also hosts the Creating Keepsakes Hour on QVC.
What Are the 50 Moments?
You might think that birthday parties and holidays are among the most important moments to capture, but according to 50 Moments, the really important memories are those where we learn life lessons. In addition to helping you figure out which moments in your life have the most meaning, this book will help you change the way you think about your memories. Thinking like a scrapbooker will help you identify the truly special events in your life.
While you'll need to buy or borrow the 50 Moments book to learn about all 50 of the essential scrapbooking moments, here are a few of the highlights:
"You're Beautiful" - layouts featuring family members looking and feeling their best
"Family Traditions" - pages that show the moments that make you a family
"I Love Home" - designs that communicate what is special about your home and what home means to you
Where to Buy the Book
You can find 50 Moments by Creating Keepsakes at most craft stores and book stores. To get the best deal, you might consider shopping online at Amazon.com or Internet retail sites that specialize in scrapbooking.
Look for this book at the following sites:
Don't Forget the Library!
If you want to save money and still enjoy 50 Moments, why not check with your local library? Many libraries carry crafting books. If yours doesn't have 50 Moments, they may be able to obtain it through inter-library loan.