Scrapbooking is a fun hobby, but one that can get expensive quickly when you want to purchase embellishments and extras for your pages. Print free cutouts that add a little something extra to your page without…
Keep reading »
Browse Topics in Scrapbook Supplies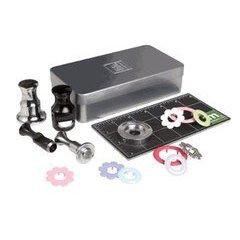 With so many different scrapbook supplies available, it's often hard for beginning scrapbookers to decide what items they need to start creating their layouts.
Essential Scrapbook Supplies
Many people thinking scrapbooking is a very expensive hobby, but there are actually only a few necessities you need to begin preserving your family's memories. On a very basic level, a scrapbooker needs:
Cardstock
Acid-free adhesive
A pen for journaling
An album to put her finished pages in
If you look for sales and coupons at your favorite craft store, the items above can easily be purchased for less than $50. Purchasing an all-in-one scrapbook kit with coordinating products may be an even more economical way to begin your new hobby.
Beyond the Basics
Once you've had a chance to master the basics and feel ready to invest a bit more into your hobby, you can start to purchase items such as:
Scrapbook tools, items that can be used on an unlimited number of layouts, include products such as:
Punches
Decorative scissors
Die cutting machines such as the Cricut or Making Memories Slice Machine
Rubber stamps
Making Smart Decisions
The key to making wise decisions regarding scrapbook supply purchases is to have a good understanding of your personal crafting style. Do you like clean and contemporary layouts or do you prefer a vintage look? Are you willing to spend several hours making elaborate pages or do you prefer to use products that help you make the most of your limited cropping time? Once you know what supplies you're likely to actually use, LoveToKnow Scrapbooking is here to help you come up with creative ways to incorporate these items into your projects.