Christmas Vintage Scrapbook Pages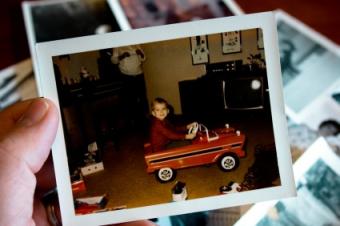 Christmas vintage scrapbook pages can add a unique charm to your family album.
What Is Vintage Scrapbooking?
Traditionally, vintage scrapbooking referred to using techniques to mimic the look of pages from the early 1900s when creating layouts for a heritage album. Today, however, the definition of vintage has expanded to include a much broader time period. Many people also enjoy using vintage scrapbook techniques to give an old-fashioned look to their more recent images.
Pairing photos of family members from different generations engaged in similar activities is an especially popular theme for vintage scrapbook pages. For example, a page featuring separate photos of Grandma, mother, and child opening gifts around the tree at the age of five would make for a sweet layout that helps showcase family traditions and the similarities between different generations.
Some common characteristics of vintage scrapbook pages include:
Sepia toned or black and white photos
Handwritten text
Paper tearing
Sanding
Distressing with walnut ink
Buttons
Lace
Postcard or postage stamp embellishments
Newspaper clippings
The colors used in vintage scrapbook layouts tend to be much more subdued than what is typically used in pages with a more modern feel. Good colors for Christmas vintage scrapbook pages include:
Burgundy
Hunter green
Navy blue
Cream
Ivory
Gold
Tan
Contrary to popular belief, Christmas vintage scrapbook pages aren't just for crafters who enjoy making traditional paper scrapbook layouts. Vintage scrapbooking can be a part of digital scrapbook pages, as many of the techniques used to create paper vintage scrapbooks can be adopted to a computer-generated format.
Supplies for Christmas Vintage Scrapbook Pages
Craft and scrapbook supply stores typically begin to get supplies for Christmas layouts in during September and October. If you can't find vintage items locally, however, you can always buy Christmas papers and embellishments online. Here are a few products to consider:
Free Downloads for Christmas Scrapbook Pages
If you're on a tight budget, LoveToKnow Scrapbooking suggests checking out the following resources for free scrapbook supplies for your Christmas layouts: