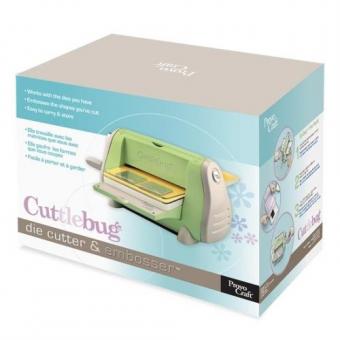 There are many different Cuttlebug ideas you can use to create interesting scrapbook projects.
About the Cuttlebug
The Cuttlebug is a die cutting and embossing machine made by Provo Craft, the same scrapbooking supply manufacturer that created the popular Cricut personal electronic cutter.
Some of the many advantages of the Cuttlebug include:
The Cuttlebug is very affordable, with a suggested retail price of just $89.99. This makes it a great option for scrapbookers on very tight budgets, or those who aren't sure they'd complete enough projects to justify investing in a Cricut electronic cutter. To save even more money, you can look for sales on the Cuttlebug at Hobby Lobby and other major craft stores.
The Cuttlebug accepts the Sizzix and dies from most major brands of die cutting machines, so you can use the dies you already own in addition to purchasing several Cuttlebug-specific designs.
The machine is lightweight and uses no electricity, which makes it a wonderful option for scrapbookers who frequently attend crops and other events away from their homes.
To use the Cuttlebug:
Lower the platforms. The Cuttlebug's powerful gripping mechanism holds machine in place.
Place your cutting material and die face up between the cutting pads.
Turn the machine's handle to move die through the Cuttlebug.
Remove your paper and have fun crafting!
You can learn more about the Cuttlebug by visiting the Provo Craft Web site. There is general information about the product, a list of dies that are available, and step-by-step tutorials for over 50 different projects you can make with the Cuttlebug machine.
Creative Cuttlebug Ideas
When scrapbooking with the Cuttlebug, feel free to experiment. The machine is very durable and easy to use, so you don't need to worry about making a mistake.
The Cuttlebug can cut and emboss:
Cardstock
Patterned paper
Vinyl
Chipboard
Craft foam
Light metal
Mesh
Fabric paper
Some Cuttlebug ideas for you to try include:
Cut letters for a mixed media title combining craft foam, mesh, patterned paper, or whatever other materials you have in your supply stash.
Die cut photos into usually shapes to make a unique centerpiece for your scrapbook layout.
Make your own embossed patterned paper.
Emboss a border around the edge of a photo mat.
Emboss a simple design in the corner of white core cardstock, then gently sand the raised area to accent the details of the design.
Use foam adhesive to layer cut shapes together to make your own dimensional embellishments for a fraction of the price you'd expect to pay for Jolee's stickers.
Make a mini book to provide extra space for photos on your 12x12 scrapbook layout. Simply cut 5-8 circles, squares, hearts, or tags, then join the shapes together with a brad in the top right hand corner.
Cut your own scrapbook tags to use as a place for journaling on your layout.
Once you discover how much fun the Cuttlebug is to use, you'll find yourself reaching for this handy tool outside of your scrapbooking sessions. Cuttlebug ideas for other craft projects include:
Recycle your patterned paper scraps by cutting out shapes to use for decorating handmade greeting cards.
Emboss a sheet of 12x12 paper, then use it to wrap a book, DVD, or other small gift.
Use the Cuttlebug's collection of seasonal shape dies to make your own holiday decorations.
Die cut flowers, butterflies, or other special shapes with your Cuttlebug from several different scraps of coordinating patterned papers. Arrange the shapes in a grid formation to make your own wall art.
Help you child create special posters and presentation sheets for his or her school projects.
Frame your favorite photos on an embossed background to make a special gift for a loved one.
Make a monogrammed stationary set to give to newlyweds, new parents, or anyone else who will be writing lots of thank you notes in the near future.
Decorate plain plastic containers with cut out shapes from your Cuttlebug for a creative way to present cookies, candy, and other homemade treats.