Digital Scrapbooking Projects
If you love the creativity of traditional scrapbooking but want something more convenient and affordable, these digital scrapbooking projects are ideal. From holiday-themed scrapbooks to beautiful layouts, you'll love experimenting with scrapbooking on the computer.
Digital Scrapbooking Projects to Get You Started
If you're new to digital scrapbooking or want a refresher, there are some great projects that can make the process easy. Try these if you want to brush up your skills.
Design a Scrapbook Page in Adobe Photoshop Elements
This helpful, step-by-step tutorial takes you through the process of designing a basic scrapbook page in the popular Adobe Photoshop Elements. You'll start by designing your own layout and paper pattern. It's a fun and easy project for beginners.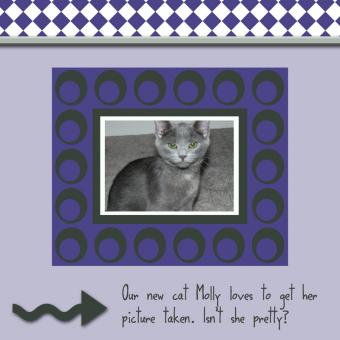 Make a Digital Memory Book
You can also learn how to make a digital memory book. This type of book is great for loved ones in assisted living or nursing homes, and it also makes a great yearly gift for kids. It's a great project for a beginner, since it introduces you to the concepts of digital scrapbooking and journaling. Add beautiful digital scrapbook embellishments to draw attention to your memories.
Themed Digital Scrapbooks and Layouts
It can be fun to create a digital layout or entire scrapbook to commemorate a special event. Whether it's a child's birthday, a holiday, or just something you need to remember, scrapbooking on the computer makes it easy to preserve the memories. Try some of these fun project ideas.
Vacation Scrapbook
Did you take some great photos on vacation? Make a digital vacation scrapbook with shots of everyone having a great time. If you went someplace beautiful like Hawaii, you can even make it location-specific with lots of images of gorgeous scenery and Hawaiian digital layouts.
Mother's Day Scrapbooks With Digital Embellishments
You can create a Mother's Day scrapbook using digital embellishments. Start with some free scrapbook paper you can print and add photos, digital scrapbooking frames, and even beautiful additions like digital flowers.
Holiday and Christmas Digital Scrapbooks
Make a holiday-themed scrapbook by using digital Christmas backgrounds for your layouts. Add digital scrapbook flourishes to photos of kids opening gifts, the family choosing the Christmas tree, and everyone sipping eggnog. You can even make your project fancy with dimensional embellishments and calligraphy fonts.
Quick Projects for Kids
If you're scrapbooking with kids, there are lots of digital projects that will keep everyone engaged and having fun. Look for something quick that makes the most of shorter attention spans.
Digital Scrapbook Badge Holder
Vinyl badge holders make the perfect way to display a mini-scrapbook, and kids love attaching them to backpacks, belts, and more. Learn how to make a digital scrapbook badge holder as a fun summer project or even as a gift.
Scrapbook Calendar
Make an awesome digital scrapbook calendar to keep track of all the important dates. You can decorate it with digital stickers and other embellishments or just keep it simple. Display your favorite photos from the year, or give it as a great gift to family.
Affordable and Convenient
No matter which digital scrapbooking project you decide to try first, you'll love the affordability and convenience of scrapbooking on the computer. There's no mess, no expensive scissors and accessories, and it's easy to pick it up and put it down. Have fun making beautiful scrapbooks to display and preserve your most important memories!