Whether you're designing an album to showcase your most recent family vacation or simply documenting your child's obsession with Mickey Mouse, there are a number of fun Disney scrapbook ideas available to help you create memorable layouts. From supplies to backgrounds and themes, you'll have no trouble creating a Disney-themed scrapbook that will capture all your memories.
Finding Disney-Themed Scrapbook Supplies
Basic Patterned Supplies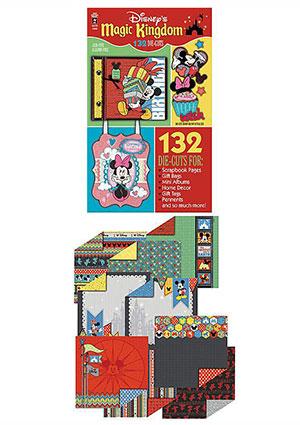 Since Disney appeals to both the young and the young at heart, it should come as no surprise that scrapbook manufacturers have created a wide variety of Disney-themed supplies. Large craft stores such as Hobby Lobby and Michaels Crafts often have a number of Disney scrapbook supplies available. You can also purchase Disney-themed items from the following online retailers:
Paper Wishes has plenty of Disney scrapbooking supplies and materials, including papers, 8 x 8 kits, stickers and die cuts.
Scrap Your Trip offers an entire section of their online store devoted to supplies for scrapbooking your Disney vacation, including patterns from various sections of Disney parks.
Scrapbooking With Love has a selection of Disney-themed albums featuring all of your favorite characters from Mickey to Cinderella.
Paper Piecing
If you're a scrapbooker on a tight budget, you may wish to create your own page embellishments by designing a paper piecing featuring your favorite Disney character. Check out the following links to download free coloring pages that can be adapted for use as scrapbook paper piecing patterns:
Free Disney Coloring Pages from 4KraftyKidz: Find hundreds of different coloring pages you can use to customize your scrapbooks.
Classy Mommy: You'll find links to about 500 free Disney coloring pages you can download and print out.
Disney Junior: Get several free coloring pages and printables directly from Disney Junior. You'll find pages with scenes straight out of current TV programs.
Fonts for Titles or Journaling
Printing your titles or journaling in a Disney-inspired font is a great way to add pizzazz to any scrapbook page. Visit the following websites to download free Disney fonts:
Disney Digital Scrapbooking
For those who create their scrapbooks digitally, there is a range of different options including kits and elements. Try some of the selections available from:
RLR Creations: Get complete digital scrapbooking kits in Disney themes. Kits include papers, "stickers," brads, ribbons and more.
Disney Scrapped: Gain access to a number of free Disney theme digital scrapbooking kits.
Capturing Magical Memories: You'll find several different digital scrapbooking kits here. Many have Disney themes, others are inspired by Disney-themed vacations.
Disney Page Titles
When you need a title for your next Disney layout, consider one of the following suggestions:
Celebrate the Magic of Disney
Doing the Disney Dance
It's a Small World After All
The Happiest Place on Earth
Just Mad About Disney
Kids with Character
Let the Magic Begin
Magical Moments
The Wonderful World of Disney
Walt's World
We're All Ears
What a Bunch of Characters
Where Dreams Really Do Come True
You may also find some great Disney scrapbook ideas within the lyrics to popular Disney songs. If you're having trouble remembering all the words to your favorite tune, Frank Pilhofer's Disney Song Lyrics index is a great resource.
More Disney Scrapbook Ideas
There are countless ways to put together a Disney-themed scrapbook. In addition to simply using Disney-themed supplies, try incorporating some of these ideas:
Use some Disney quotes, such as, "When You Wish Upon a Star" on each page.
Have a fun, hidden element on each page of the book, like a Mickey silhouette for the viewer to find.
Place a set of mouse ears in the bottom corner of each page and place a page number in the center of the "head" portion.
Create some frames around your photos using Disney-themed ribbon to help them stand out better.
If you're having trouble starting your Disney scrapbook, pick up a copy of Making Disney Scrapbook Pages from Hot Off the Press. This innovative idea book is filled with tips for scrapbooking your family's Disney memories.
Put Your Scrapbooking Ears On
A Disney-themed scrapbook is a wonderful way to capture your child's passion or a family vacation. No matter what the focus of the scrapbook is, using Disney as a backdrop is a sure way to make sure it's magical.