Examples of BasicGrey Layouts
Examples of BasicGrey Layouts
If you're looking for examples of BasicGrey layouts, you've come to the right place. LoveToKnow Scrapbooking is here to help you make the most of this popular patterned paper.
Aligning tags along the top of your page is a great way to make an interesting border that incorporates all your favorite Basic Grey patterns. This layout uses die cut tags from the Oh, Baby! line, but you could cut tags from some of the newer paper releases if you wish.
Fun Frames
The bold colors in BasicGrey lines such as Lime Rickey make great frames for special photos in your scrapbook album.
Bold Patterns
Many BasicGrey patterns can be challenge for novice scrapbookers because they seem very bold and overwhelming. If you have a pattern you like, trying cutting out a portion of the design to mat on solid cardstock, as seen in this flower cutout from the Dasher line.
Simple Stripes
Of course, not all BasicGrey patterns are hard to use. Most lines contain one or two sheets with understated stripes or simple polka dots, such as this layout featuring paper from the Mellow line.
Custom Backgrounds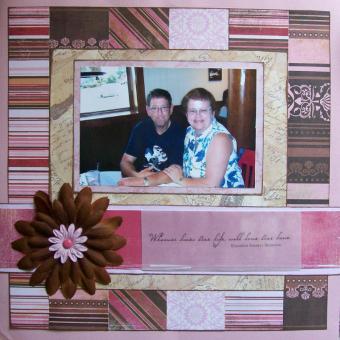 Since BasicGrey is more expensive than many patterned papers, you'll want to make the most of your purchase. Combining several different strips of papers together to make a new background is an easy way to make a thrifty layout. You can use papers from the same line, such as this layout with Blush papers, or combine several different lines for a more customized look.
Pinwheel Accents
Folding small squares of paper into cute pinwheel embellishments is another good way to make sure none of your BasicGrey paper goes to waste. This example of BasicGrey layouts features paper from the Gypsy line.
BasicGrey Stickers
When you need just a little bit of embellishment, BasicGrey stickers are the ticket. This Halloween layout uses stickers from the Eerie line.
For assistance with scrapbook sketches, check out our slideshow on Simple Scrapbook Layout Ideas.