Creative Scrapbooking Projects for Everyday
These fun general scrapbooking projects prove you don't need a special occasion to create an amazing scrapbook layout. You don't have to be an expert either; these projects are perfect for any level of scrapbooker - from beginner to advanced.
Scrapbook the Seasons
Seasonal scrapbook projects are great if you want to make something not related to a certain holiday or event. It's easy to sort your photos by season, giving you lots of options for wonderful layouts and albums. Try these projects to get started:
Summer Days Layouts
Use phrases and quotes to add emotional depth to your beautiful summer scrapbook. From beach days to summer vacation, there are lots of ways to create a gorgeous summer layout or entire scrapbook.
Winter Scrapbook Designs
Winter scrapbook layouts can be a great way to pass the time on those cold or snowy days. After the big moments of the holidays have passed, celebrate the everyday memories of playing in the snow, sipping hot chocolate, or snuggling by the fire.
Fall Scrapbook Ideas
If you want to create a scrapbook about autumn, use fall scrapbook paper to add rich colors and a fall theme to your designs. Layouts don't have to center around holidays like Halloween or Thanksgiving; instead, focus on ordinary activities like walks in the woods and raking leaves.
Spring Layouts and Albums
You can make a spring scrapbook with floral paper and embellishments like flowers. This can be a special place to keep memories like kids playing in the mud or planting the garden.
Scrapbook Your Love of Family
Family makes a great scrapbooking inspiration; after all, it's the reason many scrappers love the hobby. You don't have to wait for birthday parties and weddings to celebrate your love of family. Any ordinary day will do with these family-themed general scrapbooking ideas:
Childhood Memories
Scrapbook your childhood memories or the moments you want your kids to remember. These don't have to be big things; they can be everyday events like kids playing in the back yard or visiting with grandparents.
Your Family Tree
If you love genealogy and family history, make a scrapbook of your family tree. You can include photos of parents, grandparents, great grandparents, and more.
Everyday Memories With Friends and Family
Celebrate friends and family with layouts designed to show your special relationships. From picnics to playing sports, your album can include the ordinary moments that make life special.
Help Preserve Senior Memories
If you have a loved one who has lived a long and eventful life, you can create a memory book to help them relive it. Learn what to include in a scrapbook for the elderly, including photos, memories, mementos, and more.
Get Creative With General Projects
You can also get creative with materials and themes to make a scrapbook anytime you're in the mood. From entire scrapbooks made of paper bags to specific projects featuring greeting cards and other items, there's no shortage of great ideas.
Make a Scrapbook Cover
You don't have to settle for the ready-made cover on an album you buy from the store. Make your own scrapbook cover to reflect the unique contents of the album you are creating.
Make a Scrapbook From a Paper Bag
If you want to save money and create something unique, you can make a scrapbook from a paper bag. This is a fun everyday project to do with kids or simply on your own.
Create a Scrapbook of Greeting Cards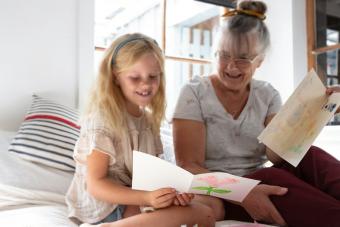 Photos are part of scrapbooking, but they aren't the only part. This hobby is also a great way to save those beautiful and meaningful cards you receive all year. Make a greeting card scrapbook to preserve your special correspondence.
Keep It Simple
Your scrapbook layouts don't have to be complicated or fancy. Learn how to make simple layouts that will show off the beauty of your photos and memories.
Make a Mini Scrapbook
Sometimes, the little moments in life call for little albums. Instead of a big 12x12 album, create a smaller scrapbook using 8x8 layouts. Learn how to show off your moments in this smaller format.
Life Is Full of Everyday Moments
Life has lots of holidays and special events, but it's also full of everyday moments. Some of the best scrapbooking projects capture those ordinary activities and events and help you create something beautiful to preserve your memories.