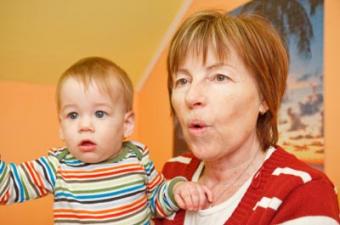 Grandson scrapbook ideas make it easy to create a special memory book showcasing the relationship between you and your grandchild.
Finding Photos to Scrapbook
Finding photos to scrapbook is generally the most challenging part of any scrapbooking project.
If you're lucky enough to live near your grandson, you probably have hundreds of pictures to choose from. Remember that you don't need to scrapbook every photo! Trying to fit 200-300 photos in your album is guaranteed to be a recipe for frustration. Choose your favorites, then add the rest in divided plastic pages at the end of your finished scrapbook.
If your grandson lives far away, you might not have very many pictures to scrapbook. To remedy this situation, you could try asking his parents for copies of their favorite pictures. Or, if your grandson is older, consider sending him a disposable camera and asking him to take pictures of what he does throughout the day to make a "Day in the Life" scrapbook album.
You can fill in your scrapbook by including memorabilia such as:
Greeting cards
Tickets from a plane trip to visit him
Newspaper clippings, such as his birth announcement published in your hometown newspaper
Drawings he has made for you
Letters he has written or copies of letters you've written to him
Printouts of e-mails or Facebook postings
Grandson Scrapbook Ideas for Journaling
While journaling is certainly important for any scrapbook layout, written communication is especially vital in family heritage scrapbooks. Your grandson scrapbook will not only be cherished by your grandchild, but is likely to be a special keepsake for his own children and grandchildren.
If you're having trouble coming up with the journaling ideas for your scrapbook pages, here are some suggestions:
How you felt the day he was born
Special memories from his baptism, first Christmas, or other significant events
What happened on his first trip to Grandma's house
Resemblances between him and his mother or father
Traits he has in common with other members of his family
How his childhood is different from what life was like when you were a child
Your hopes and dreams for his future
Another good way to start journaling in your scrapbook is to use a quote as the basis for explaining your feelings. Consider the following:
"What advice do I tell my grandson? I listen to him." --Roy Haynes
"Our grandchildren accept us for ourselves, without rebuke or effort to change us, as no one in our entire lives has ever done, not our parents, siblings, spouses, friends - and hardly ever our own grown children." --Ruth Goode
"Grandchildren are the dots that connect the lines from generation to generation." --Lois Wyse
"Few things are more delightful than grandchildren fighting over your lap." --Doug Larson
"If nothing is going well, call your grandmother." --Italian Proverb
Scrapbook Layout Ideas
The common instinct among scrapbookers is to arrange the pages in their album chronologically, starting with baby photos and working their way towards showing their grandson as an older teen or young adult. However, there is no "rule" that says this is the approach you must take. In fact, combining pictures from several different years onto one scrapbook layout can be a fabulous way to demonstrate how much someone has changed or to make comparisons between family members.
For more help choosing the design for your scrapbook layout, please review the slideshows featured in LoveToKnow Scrapbooking's General Scrapbooking Projects idea gallery.
Grandson Scrapbook Supplies
You don't necessarily need to purchase special themed papers and embellishments to make a grandson scrapbook album. You can simply use your grandson's favorite colors as a basis for the book, accenting with embellishments such as basketballs, race cars, or other objects that represent his interests. However, if you would like to purchase some special items for your project, keep in mind that you can typically find a variety of grandparent and grandchildren themed scrapbook supplies at retailers such as Hobby Lobby and Michael's Crafts. Online scrapbook specialty stores also have many interesting items for creative grandson scrapbook ideas. For example, A Cherry on Top's family section has papers and embellishments with grandchildren and grandparent themes. Manufacturers include Colorbok, Creative Imaginations, 7 Gypsies, K&Company, and Reminisce.