Miss Elizabeth Scrapbooking Stickers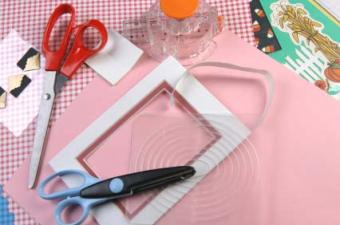 Crafters in search of versatile scrapbooking products at a budget-friendly price have been happily using Miss Elizabeth's scrapbooking stickers and other supplies for years.
About Miss Elizabeth's Scrapbooking Stickers
Miss Elizabeth's scrapbooking products were designed and manufactured exclusively for the Dollar Tree chain of discount stores by Chicago-based Chartwell Studio, Inc. Dollar Tree discontinued much of the line, including the stickers and paper in 2007. According to the company's American distributor, Notions Marketing, a few independent scrapbook stores and smaller chains may still carry some remainders, but Miss Elizabeth's stickers are no longer being manufactured and have limited availability.
Miss Elizabeth's Popularity
Miss Elizabeth's full product line included scrapbooking paper, stickers, and tools. The paper and stickers were produced in pastels and primary colors and had a timeless, whimsical style. This is a style that many scrapbookers, particularly beginners, find easy to work with because it blends with many different page topics and does not look dated.
The line also encompassed a huge array of styles, colors, and special themes. The sticker selection included:
Alphabet stickers
Dimensional stickers
Word stickers
Spanish language stickers
Clear stickers
Embossed stickers
Vellum stickers
And more
Uses
Scrapbookers could use Miss Elizabeth's products alone, or mix and match the line with supplies from other manufacturers for a variety of projects, from scrapbooks to cards and other crafts. Here are just a few of the ways scrapbookers have used Miss Elizabeth's scrapbooking stickers:
Baby girl/baby boy stickers can be used to create an entire baby album, a page for a larger scrapbook, or a "Welcome, Baby" card
Alphabet stickers are perfect for scrapbook titles or adding a child's name to a binder, lunchbox, or homework folder
Embossed stickers add an elegant touch to wedding and anniversary scrapbook layouts or cards
Christmas stickers make creating seasonal scrapbook pages or holiday cards a breeze
Birthday stickers in bright red and yellow lend a pop of eye-catching color to scrapbook layouts or birthday invitations and cards
Kitchen-themed stickers make recipe cards or handcrafted recipe books even more special
Add flourishes to any page or project for extra visual impact
Spanish language stickers lend a hint of authenticity to a Mexican cruise scrapbook layout
Pricing
Miss Elizabeth's scrapbooking supplies are popular not only because of their easy-to-use style and versatility, but also because of their original Dollar Tree $1 price tag. In contrast, other alphabet stickers could cost $2, while three-dimensional stickers such as Jolee's Boutique might sell for $3 or more per pack. Now that remainders are being sold through independent scrapbook stores, the retail price is set by the storeowner and may be higher or lower than the original $1.
Buying Miss Elizabeth's Stickers
Because the company has discontinued the Miss Elizabeth's line, the stickers and papers can be difficult to find. You may discover a hidden stash at your local scrapbook store, but your best bet is to check an online auction site like eBay. A search through an online search engine like Google may also generate some results. If you're lucky, you may be able to locate bulk lots or clearance sales that will allow you to scoop up multiple packs at once. Be prepared: Because of their short supply, Miss Elizabeth's stickers will be available only in limited quantities, and may be sold for well over their original price.
Initial Author: Lain Ehmann