New Years Resolution Layouts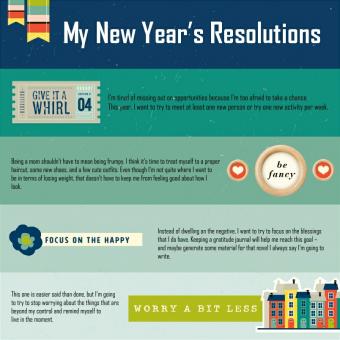 January 1 is a day of new beginnings, with many people resolving to change their lives for the better. By making a New Year's resolution scrapbook page, you can give yourself a tangible reminder of your goal. This will help you stay motivated throughout the year.
A Visual Representation of Your Goals
The most common way to scrapbook New Year's resolutions is to highlight all of your goals on one page, as shown in the layout above. This approach creates a pretty reminder of what you hope to accomplish, so you may want to frame it or clip it up next to your desk so you can see it every day. Whether you're planning to lose weight, get in shape, save for a vacation, or get out of debt, a positive reminder can be a useful motivational tool.
Use ombre-patterned paper for your background to divide the page into five different visual sections. If you don't have ombre paper in your supply stash, make your own by cutting different shades of cardstock into long 2.4" x 12" strips and pasting them on a plain 12" x 12" background.
Add a "My New Year's Resolutions" title at the top of the page, accented with some washi tape paper flags.
For each of the remaining four sections, choose a sticker or embellishment that represents one of your resolutions and write a sentence or two describing what your goal for the upcoming year is. In this example, "Give It a Whirl" refers to being willing to try new things and "Be Fancy" refers to making bolder fashion choices instead of relying on a basic mom uniform of yoga pants and a t-shirt. If you want to be a little more literal with your embellishment choices, try choosing supplies that suggest your specific goals. For example, embellishments with apples and running shoes would be a good choice for a resolution about making healthy lifestyle choices.
Charting Your Progress
Since the theme of New Year's resolutions is progress and change, you might want to leave space to add journalling about how you accomplished your goals at the end of the year. One way to do this is to use patterned paper with a grid design to create a template for future updates to the page. This page uses a resolution of losing weight though you could customize it to suit another theme.
Choose patterned paper with six sections. This example uses paper from the Amy Tan "Yes Please" digital kit from American Crafts. If you can't find a similar paper, choose six coordinating patterns from your stash or a free printable paper collection, then cut them into 4" x 6" squares and paste them onto a 12" x 12" cardstock background.
In the first section, write down why you want to lose weight.
In the second section, add a photo of yourself with your weight at the beginning of the year.
In the third section, include your favorite motivational quote or phrase.
In the fourth section, leave spots for monthly weigh-in updates.
In the fifth section, include a list of steps you plan to take to reach your weight loss goal.
In the sixth section, leave a spot for your end of the year weight loss success photo.
Creating a Photo Inspiration Board
Coming up with photos for a New Year's resolution layout can be tricky. If you don't have pictures of yourself engaged in an activity relating to your goal, look for representations online or in magazines. For example, there might be a special outfit you want to wear to your anniversary dinner after you reach your weight loss goal. Or, if you're saving money for a vacation, you could illustrate your layout with maps and travel brochures of places you want to visit on your trip. This example uses photos of craft projects as representations of the type of creative activities the scrapbooker hopes to accomplish in the upcoming year to create a visual "inspiration board" that is the centerpiece of the layout.
Choose a complementary color scheme for your page. A complementary color palette uses a primary color (yellow, blue, or red) and a secondary color (green, violet or orange). This example pairs blue and orange patterned papers with neutral white accents for a modern look.
Cut a 3.5" x 12" strip of your secondary paper and place it on the upper portion of your 12" x 12" background paper. Mount your photos on white cardstock in a rectangular grid pattern, then add them over top of your secondary paper color.
Add a file folder tab embellishment with a word that highlights the theme of your page to the upper right-hand corner of your photo grid. In this example, "Inspired" highlights the layout's focus on creativity.
Add your title and journalling below the photos. If you can find word art or an embellishment that suits your theme, this is an easy way to add visual interest to the page. The "Giving New Things a Whirl" sticker in this example is from the Shimelle True Stories Digi Kit in the Daisy Trail Digital Scrapbooking Shop.
A Picture Is Worth a Thousand Words
Sometimes, one photo can perfectly sum up your New Year's resolution. For example, if you want to spend more time with your family, you might choose to make a page highlighting a photo of everyone enjoying a group activity. This example uses a photo of a mother and child to highlight the desire to be a more focused and attentive parent.
Enlarge your favorite photo so it measures 5" x 12". Add the photo across the upper portion of a 12" x 12" sheet of white cardstock.
Add a thin border of washi tape or ribbon below the photo.
Add a washi tape flag in the upper left-hand corner. If desired, add a circular embellishment in the upper right-hand corner.
Finish your scrapbook layout with a word art title and journalling that describes your New Year's resolution in greater detail. This example uses word art by Marisa Lerin available free from PixelScrapper.com.
Inspire Yourself
Making resolution layouts for your scrapbook album can be a fun way to help you start working towards your goals for the upcoming year. Whether you create a single page listing all your goals or design an entire book with room to expand upon your progress throughout the year, the process of documenting your resolutions is sure to give you the inspiration you need to turn your dreams into reality.