Pregnancy Scrapbook Ideas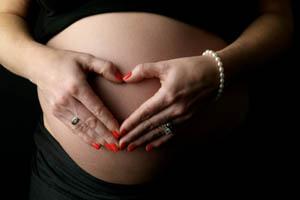 If you're expecting a new addition to your family, pregnancy scrapbook ideas can make it easy to create a special album that celebrates this memorable time in your life.
Pregnancy Scrapbook Ideas Help You Preserve Your Memories
As any expectant mother can tell you, a lot can happen in nine months! Between doctor visits, decorating the nursery, and choosing a baby name, you may feel like you haven't got a moment to spare. However, taking the time to create a pregnancy scrapbook is well worth the effort.
In most cases, a pregnancy scrapbook covers the time between when you realized you were pregnant and the day your baby was born. However, if you have a large amount of information to include in your pregnancy scrapbook, you may want to create a separate album chronicling your labor and delivery.
Journaling
Journaling is the cornerstone of all great pregnancy scrapbook ideas. As your child grows, he or she will love to hear about your pregnancy experiences. Consider answering the following questions in your layouts:
How did you feel when you first found out you were pregnant?
How did you share your pregnancy news with family and friends?
What were some of your first pregnancy symptoms?
What was your strangest pregnancy craving? Were you a pickles and ice cream girl, or did you want something more unusual?
How did you feel when you needed to go shopping for maternity clothes?
Did you choose to find out your baby's gender in advance? Why or why not?
How did you choose your baby's name? What were some of the names you considered before picking the winner?
How did you select a theme for your baby's nursery?
Did you have a baby shower? Who attended? What gifts did you receive?
Did you attend prenatal classes or childbirth education classes? What did you learn from this experience?
How did you feel as your due date approached? Were you scared and nervous or simply excited to meet your new bundle of joy for the first time?
What was your labor and delivery experience like? Did it live up to your expectations?
How did you feel when you saw your baby for the first time?
Who came to visit you and your baby in the hospital?
Photos
After you've decided what journaling you want to share in your pregnancy scrapbook, you'll want to choose photos for your pages. Here are some pregnancy scrapbook ideas for photos to include in your layouts:
Photo of you holding the positive pregnancy test
Month-by-month photos to chart the growth of your pregnant belly
Photos of friends and family "talking" to your pregnant belly
Photos from your baby shower
Pictures of the baby's freshly decorated nursery
Pictures of the hospital where your baby will be born
Photos from your actual labor and delivery
Pictures of friends and family holding the new baby
Memorabilia
Contrary to popular belief, a scrapbook is not just a glorified photo album. Memorabilia is often used to add a one-of-a-kind touch to pregnancy scrapbook layouts. Consider including the following items in your pregnancy album:
Ultrasound results
Congratulations cards you received when you announced your pregnancy
Receipts for the items you purchased for your baby's nursery
Appointment cards from your prenatal visits
Photocopies of relevant pages from the baby name books you used to choose your child's name
Clothing tags from some of your baby's first outfits
A chart from a baby development book that explains how your child is growing and developing week-by-week
Shopping for Pregnancy Scrapbook Supplies
If you're new to scrapbooking, creating a pregnancy album may seem like a difficult task. However, you can make a beautiful keepsake for your baby using just a few simple supplies:
Album
Cardstock in white, cream, pink, blue, yellow, green, and other soft pastel colors
Patterned paper
Stickers, ribbon, or other baby-themed scrapbook embellishments
Paper trimmer
Many expectant mothers choose to purchase supplies for their pregnancy scrapbooks from a local scrapbook store or a large craft store such as Hobby Lobby. If you prefer to shop online, however, you can find pregnancy scrapbook supplies on the following websites:
Additional Information
To learn more about preparing for your baby's arrival, visit LoveToKnow Pregnancy.
For answers to all your questions about caring for a newborn, visit LoveToKnow Baby.