Where to Buy Rotary Cutter Blades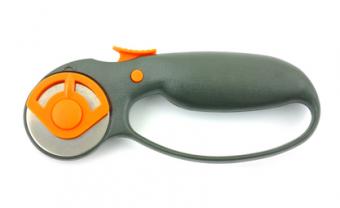 Rotary cutters are a must have for every scrapbooker. Whether you use a traditional circular blade or a newer paper trimmer, you'll also need some replacement blades on hand. Because there are subtle differences between manufacturers and their cutters, whenever possible purchase replacement blades from the manufacturer of the cutter you use. There are two basic types of rotary cutters, both of which have their own blades and requirements.
Rotary Blades for Circular Cutters
Circular cutters are handheld cutters that use a circular blade. The blades can be straight or decorative, depending on the type of cut desired.
Olfa
Olfa makes replacement blades that fit all of their 45 millimeter rotary cutters. The blades are straight edge and made of tungsten steel for durability and sharpness. A pack of five blades runs just under $35 direct from the manufacturer. Olfa also sells single packs of decorative blades for under $12 a piece including:
All decorative blades fit in 45 millimeter cutters.
Fiskars
Fiskars makes replacement blades for all of their 45 millimeter and 60 millimeter cutters, including their quick change cutter. The blades are made of stainless steel for sharpness and durability. They come in packs of five starting around $40.
Clover
Clover rotary blades come in a number of sizes including 18, 28, 45 and 60 millimeters. Straight replacement blades are available for each cutter:
Two or five piece replacement blades for the 18 millimeter cutters range from under $8 to under $15
Two or five piece replacements for the 28 millimeter cutters range from about $8 to under $15
Single or five piece replacement blades for the 45 millimeter cutters range from under $7 to under $28
Single or five piece blades for the 60 millimeter cutters range from under $11 to about $48
Rotary Blades for Paper Trimmers
Paper trimmers that use rotary blades are long, flat trimmers that have a sliding blade on top. The blade is pushed across the paper in a straight or decorative line.
CARL
CARL makes both home and professional rotary cutters with blades to match. They sell a replacement blade pack that contains six different blades for under $47 including:
Short Wave
Pinking
Scallop
Squiggle
Colonial
Long Wave
They also sell straight replacement blades for under $8 and a two pack of deckle and Victorian blades for under $18.
Fellowes
Fellowes makes state-of-the-art rotary paper trimmers in a number of sizes, all of which can use their SafeCut cartridges and blades. The replacement blades are sold in two varieties:
Start Trimming
Keeping replacement blades on hand for your rotary cutter ensures a clean cut every time you need one. Whether you use your trimmer for straight cuts or decorative ones, keep a pack of blades on standby and never run out during a project.