Saving Money with Digital Scrapbooking: Interview with Gina Miller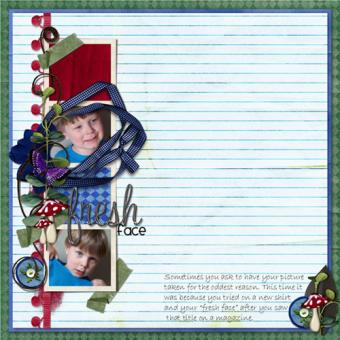 If the poor economy has led you to rethink your craft and hobby spending, you may be interested in saving money with digital scrapbooking.
Digital Scrapping With Gina Miller
Scrapbooker Gina Miller, owner of Gina Miller Designs, recently took some time from her busy schedule to answer a few questions about saving money with digital scrapbooking.
In your opinion, why is digital scrapbooking a smart choice for the frugal scrapbooker?
One word: re-usable! Every single thing you buy can be used again and again! For example, I can use my favorite butterfly embellishment on a dozen pages if I wanted. With the option to re-color your files, you can even re-use something while making it look brand new!
What equipment is necessary to begin creating digital scrapbook layouts? Does it matter if my computer isn't the most up-to-date model?
You do not need a completely up-to-date computer or top-of-the-line model to get started! If your computer is on the older side, I can't promise you won't get frustrated with the time it takes to open larger files. (This is assuming you have lots of stuff stored on your system.) But, if you have the open memory to purchase and load a photo program, you are good to go! To begin digital scrapbooking, you will need a program such as PhotoShop Elements or PaintShopPro. There are a bunch of programs out there. I would suggest visiting the various Web sites and downloading the free copies that are offered to you for a trial period. Test before you commit and find a program you love!
I myself love all products in the Adobe family. I scrap and design in PhotoShop CS2. Elements is a great user-friendly (and more economical) version that I would most definitely recommend.
What is the difference between sites offering digital scrapbook freebies and sites offering kits that you must pay to download?
Digital scrapbook freebies are basically samples that are a wonderful way to test your hand at digital and try before you buy. Many people, including myself, got hooked on digital scrapbooking with the use of free samples. The difference between freebies and kits that you pay for is not so much quality but quantity. Designers offer small samples as a way to see if you like their style or sometimes just as a sweet little gift to the community. If you want more coordinated files to work with and a larger selection of the designer's work, you'll want to shop their stores and see what else they have to offer!
What is the best way to share your layouts when they are completed, if you don't have access to a 12x12 printer at home?
Many people actually do not have access to such large printers, so there are definitely other ways to share. I myself am an 8x8 scrapper, so I can print at a home on a standard printer. You can upload your work to different sites that will print for you. You can utilize tools at places such as Shutterfly and create beautifully bound coffee table books.
There are also people who choose not to print at all. Creating a free online gallery and sharing the actual link with family and friends is a great way to share your work.
What tips do you have for someone who wants to try digital scrapbooking to save money, but isn't quite ready to give up her traditional paper scrapbook supplies completely?
Go hybrid! Many scrappers don't want to give up their paper scrapping and they don't have to! It's not uncommon for people to create a digital layout, print, and then finish it off with paper embellishments. A lot of the online digital stores offer very easy templates and tools to help you create beautiful mini albums and assorted crafts that are half digital, half paper.
Additional Information
Gina Miller's original patterned papers and embellishments for digital scrapbooking can be purchased at The Lilypad.