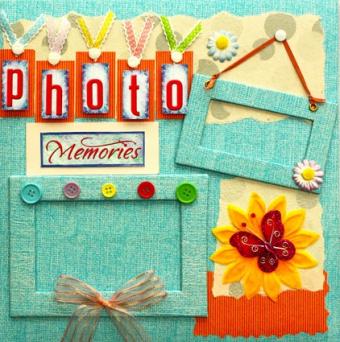 If you're in search of an easy way to perk up your next layout, scrapbook grommets may be just the solution you've been looking for. According to Creating Keepsakes and Scrapbooks Etc., grommets are one of today's hottest trends for scrapbooking embellishments.
About Scrapbook Grommets
Traditionally, grommets were used to reinforce the holes in shoes and other apparel items. However, grommets have now become a phenomenally popular scrapbooking embellishment. Experienced Scrapbookers who have been using eyelets on their pages for years are turning to grommets to create fresh designs, while beginning Scrapbookers love grommets for their dramatic appeal. Scrapbookers who enjoy cardmaking and creating altered art items will find grommets to be valuable for these types of projects as well.
Grommets used in scrapbooking projects should be archival-safe and made from a non-rusting metal. You can purchase scrapbook grommets in basic silver, gold, copper, and pewter, as well as fun colors like pink, lavender, baby blue, and mint green. Simple round grommets add a modern touch to your layouts, while floral scrapbooking grommets make lovely accents for feminine projects. You can also find grommets in seasonally-inspired shapes that are suitable for use on holiday scrapbooking projects.
Grommet Project Ideas
Although learning how to use a grommet tool can require a bit of practice, scrapbooking grommets are surprisingly versatile page embellishments. For example:
Use large scrapbook grommets as mini frames for cropped photos.
Use grommets as a substitute for the letter "O" in your page titles.
Substitute scrapbook grommets for bullets in journaling lists.
Center smaller stickers inside grommets to create an eye-catching page accent.
Create a hip border by adding several randomly placed grommets to the bottom of your layout.
Group grommets together to create unique corners for your focal point photo.
Add grommets to the center of silk flowers for a whimsical page accent.
Use round grommets and string to create a fun balloon bouquet accent for a birthday themed layout.
scrapbooking grommets can be used to mimic the look of bubbles on a bath time layout for your child's scrapbook.
Add shiny silver grommet wheels to a paper piecing of a car to create a uniquely masculine page accent.
Create an interactive mini-book for your layout and use scrapbooking grommets to reinforce the holes in the closure.
Use grommets to adhere vellum, transparencies, and specialty scrapbook papers to your pages.
Thread ribbon or fibers through the holes in your grommets for a one-of-a-kind look.
Use grommets to add a touch of dimension to your digital scrapbook layouts.