Scrapbook Layouts About Prom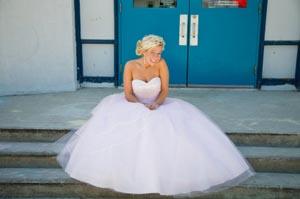 Since it's one of the most glamorous nights of the year for a high school student, it should come as no surprise that many young crafters find themselves searching for ideas to create scrapbook layouts about prom.
Ideas for Scrapbook Layouts About Prom
Here are a few ideas to consider when creating your prom scrapbook layouts:
Planning and Preparations: Were you a member of any of the committees in charge of planning prom? Did you participate in any school fundraisers to help raise money for the event?
The Date: If you don't have a steady boyfriend, how did you decide who would be your prom date? Did you go with a long-time crush? Did you get asked to the event by a male friend?
The Dress: What does your prom dress look like? How long did it take you to decide what dress you'd be wearing for the occasion? What accessories did you choose to go with your outfit? Did you take any friends with you on your shopping trip?
Getting Ready: Did you have your hair and makeup professionally done for the occasion or did you get ready on your own? What was the inspiration behind your "look" for the evening?
Flowers: What did your corsage look like? What kind of flowers did you pick out for your date?
Transportation: Did you make any special arrangements for prom transportation, such as renting a limo or borrowing your father's prized convertible?
Food: Did you get to eat a special meal before prom? If so, what was your favorite part of the meal?
Decorations: What did you think of the decorations at prom? Did they help set the mood for a special night?
Dancing: What was your "signature move" while dancing at prom? Did you prefer slow dancing with your date or acting crazy with your friends?
Music: What songs were played at prom? (For extra-special scrapbook layouts about prom, consider burning a CD with some of your favorite songs from the night and including it in a separate pocket on your page.)
After Party: What did you do when prom was over? Did your school host a special after party event with games and prizes? Did you go out to breakfast with your friends?
Quotes for Prom Scrapbook Pages
Quotes can be a great way to add interest to an otherwise ordinary layout. They can be used as a substitute for a page title or as a way to start your scrapbook journaling. Here are a few suggestions to consider for your prom scrapbook:
"Nobody cares if you can't dance well. Just get up and dance." --Dave Barry
"It is one of the blessings of old friends that you can afford to be stupid with them." --Ralph Waldo Emerson
"There is a bit of insanity in dancing that does everybody a great deal of good." --Edwin Denby
"We're fools whether we dance or not, so we might as well dance." --Japanese Proverb
Designing Your Page
Prom-themed embellishments are available from most scrapbooking supply stores, although it's a good idea to keep in mind that many products intended for wedding or romance layouts will also work well for scrapbook layouts about prom. Other supplies to look for when designing prom-themed scrapbook layouts include:
Metallic or glittered cardstock
Patterned paper with flocking as part of the design
Rhinestone brads
Silk flowers in the style of your corsage
Ribbons to match the color of your dress
If you're on a tight budget, Scrapbook Scrapbook has several free prom printable pages you can use to create your layouts. Don't forget that memorabilia, such as your invitation or the tickets to the event, can also be incorporated into your scrapbooking project to add a touch of pizzazz with no extra cost.