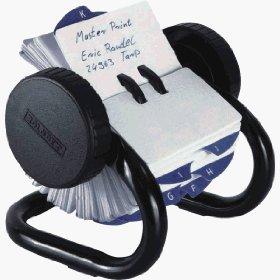 Scrapping with Rolodex cards can be fun way to explore your creative side. The small size of the individual cards, combined with the flexible nature of a Rolodex organizer, makes this the ideal place to try out new paper crafting techniques.
About Rolodex Scrapbooking
Traditionally, scrapbookers create layouts for albums in an 8 ½ x 11, 6x6, 8x8, or 12x12 size. Most albums are post-bound with plastic page protectors to help keep photos and memorabilia safe. While this is certainly a practical and useful way to preserve memories, scrapbookers who desire to stretch their creative muscles may want to turn to other album forms. A Rolodex, because of its interactive nature, is a common canvas for artistic scrapbooking.
A Rolodex is a special filing device that holds notched and tabbed index cards. It is intended for businesspeople to use to store important contact information. The name "Rolodex" is simply a combination of the words "rolling" and "index." Rolodex products are manufactured by Newell Rubbermaid, although the term is often used to describe other types of organizers as well. You can purchase a blank Rolodex at Staples, Office Depot, and Office Max, or any other large office supply store.
Tips for Scrapping with Rolodex Cards
There are three different ways to approach scrapping with Rolodex cards:
Embellish blank Rolodex cards as your basic canvas.
Use one blank Rolodex card as a template, then cut others from cardstock and/or patterned paper to match the design of your project.
Cut out cards using the Sizzix Sidekick and Large Address Die or BossKut Address Die.
Although you can use anything you wish to embellish your Rolodex cards, it is recommended that you stay away from bulky embellishments. Eyelets and small brads are probably fine, but large metal charms or heavy chipboard pieces are likely to come off when the project is being used. Glitter, unless attached with an extremely strong adhesive, is likely to flake off. Remember that your finished design won't have page protectors to help keep it safe like a traditional scrapbook.
Whenever possible, use rubber stamps, stickers, die cuts, and rub-ons to jazz up your cards. Add texture with embossed papers or those which feature flocking as part of the design element. Digital scrapbook freebies printed on sturdy cardstock also work well for this type of project. If you want to add an extra bit of flair, try stapling ribbon tabs to some of the cards.
Creative Uses for Rolodex Scrapbooks
Although a Rolodex scrapbook can be a piece of interesting artwork and home décor all by itself, you can easily transform your project into something that is both decorative and functional. For example:
Address Book: Add photos of loved ones and your favorite friends and family sayings to the divider cards to make a prettier version of the standard Rolodex.
Birthday and Anniversary Reminders: Use seasonal embellishments to mark off the months, then embellish birthday and anniversary date cards with favorite photos.
Gift Lists: Keep track of clothing sizes, favorite colors, and other information you may need when shopping for presents.
Recipe Box: Decorate this project with photos of your favorite dishes and your loved ones enjoying special holiday meals.
Calendar: Create a handy space to keep track of appointments and things to do.
Storage for Scrapbooking Ideas: Use your Rolodex to keep track of sketches, quotes, page titles, and other bits of inspiration you plan to use for future projects.
Artist Trading Card Holder: If you're interested in making and sharing Artist Trading Cards, an embellished Rolodex is a wonderful place to store your collection.
You can see examples of finished Rolodex scrapbooking projects by visiting the following links: