Celebrate the Bonds of Family and Friendship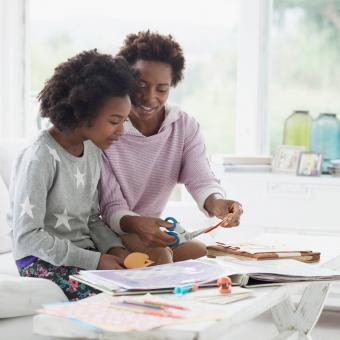 When you're making a friends and family scrapbook, you can take your work to the next level with a few creative tips and techniques. Celebrate the bonds of family and friendship with these fun ideas.
Start Your Family Scrapbook With a Word
Begin your family scrapbook with a simple word layout, such as "Family," or a quote about family. Add patterned papers and some special photos to offer an introduction to the theme you're exploring in this book. Readers will know right away that this is a scrapbook about your family.
Scrapbook Your Surname
Try a layout with your family's last name at the top. Add a group photo of relatives who seldom see each other, and this is sure to become a cherished keepsake. You can do some journaling too about the origin of your surname or the time you spent together as a family.
Grandma and Grandpa Layout
Layouts showcasing the relationship between family members are always meaningful, especially when they span the generations. Choose a special photo that shows a family relationship and show it off with decorative embellishments, words, family clip art, and more.
Show the Family Nicknames
Does someone in your family have a nickname? Make your pages tell a story, such as how your loved one got his or her nickname. You can add a journal entry too if you need to tell more of the story.
Scrapbook the Romance
Don't forget to scrapbook romantic moments between you and your spouse or your parents or grandparents. Choose photos of the couple individually or together and highlight them in frames. Include photos of important anniversaries too. You can add the word "love" for a classic romantic vibe.
Scrapbook Events With Friends and Family
Did you attend a puppet show or other special even with your friends or family? Use pre-made quote or phrase embellishments to build a quick layout, adding photos of the event and the people enjoying it.
Tell the Story of Your Family's Year
Some years are especially important for families. Whether you're scrapbooking a baby's first year or telling about your child's school year, you can create a collage of photos. Patterned paper with a grid-like design makes it easy to design a photo collage featuring your favorite friends and family pictures.
Let Important Photos Shine
Sometimes, a special photo says it all. With the right patterned paper, a special photo takes center stage. Consider using photos of family relationships or special moments in a friendship. Set alone, the photo will encourage the person reading your scrapbook to linger on this page.
Scrapbook Silly Moments Too
Silly photos of everyday moments provide a chance to showcase your creativity and show off the personality of your family. Whether you get silly together or individually, you can create a layout with a series of photos of a moment. Arrange the shots in order and use a great title. Your layout will make everyone smile.
Make a Layout With Old Family Photos
You can create a scrapbook layout with old family photos too. Choose some of your favorites from your family archives and show off some of the older branches of your family tree.
Scrapbook Your Home
Your home is the heart of your family and the place you meet with many of your friends. Don't forget to include this important memory-making place in your family and friends scrapbook. You can show it off with Poloroid-style photo frames to give it a fun vintage feel.
Consider a Dedication Page
Use alphabet stickers, chipboard words, and metal phrase embellishments to compose a letter to a loved one that can double as the dedication page for a special scrapbook album. You can place this page at the beginning of the scrapbook or use it as the final page. Either way, it will provide lasting meaning.