Halloween Scrapbook Ideas
Easy Halloween Scrapbooking
Between carving pumpkins and picking out the perfect costume, there are plenty of great Halloween scrapbook ideas available. At LoveToKnow Scrapbooking, we're here to help you create Halloween layouts that will be cherished for generations to come. Whether you're a traditional paper scrapbooker or interested in creating all digital layouts on your computer, we have plenty of ideas and inspiration to help you get started on your next project.
Here Comes Superman!
Don't forget to take plenty of pictures of your children in their Halloween costumes!
Boo!
Look for non-traditional embellishments, such as this pumpkin shaped bookmark, for your layouts.
Halloween 2005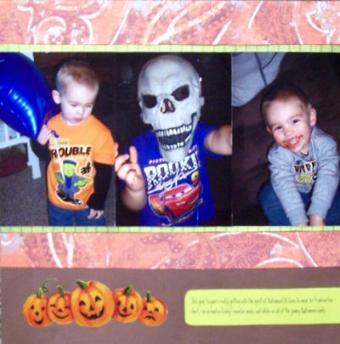 Instead of matting all photos individually, save time by treating them as one large collage.
Thrilling Masks
Remember to snap pictures of your favorite Halloween craft projects.
Interested in more holiday projects? Check out these Easter Scrapbook Ideas.