Getting Organized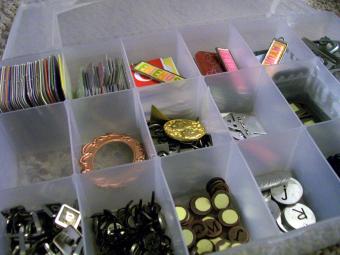 If you need some help getting organized, pictures of scrapbook rooms can provide the inspiration you need to overcome your problems with clutter. Even if you don't have a ton of money to spend, there's no need to doom yourself to a messy craft area. For example, inexpensive divided plastic containers make a great home for eyelets, brads, charms, and other small embellishments.
Pretty and Practical
Large plastic storage containers with drawers make it easy to organize your scrapbook room, but these containers aren't always pretty. For a slightly more polished look, simply cover the insides of the drawers with scraps of your favorite patterned papers.
Storage on a Budget
One way to save money when designing your scrapbook room is to look for ways to repurpose items you already own. An old TV cart decoupaged with colorful paper makes a simple yet effective home for scrapbooking idea books and back issues of your favorite magazines.
Neatly Organized Paper
Labeled vertical paper holders help keep cardstock and patterned paper easily accessible.
A Special Workspace
Keep adhesives and other frequently used items in a pretty basket on your desk so they are always available when you're working.
Fun Pictures of Scrapbook Rooms
Frame your favorite patterned paper or a special layout you've created to make instant artwork for your scrapbook room walls.
Make Cleanup a Breeze
The key to a well-organized scrapbook room is making it easy to pick up when you're finished with a project. Use rub-ons or vinyl die cuts to decorate a plain trash can. For more tips on designing the workspace that's right for you, check out our article on Great Scrapbook Craft Rooms.