Christmas Scrapbook Ideas for Creative Layouts
Scrapbook Christmas Memories
Finding Christmas scrapbook ideas can be a challenge, but these creative layout ideas will help. While Christmas is certainly a fun-filled holiday, the hectic atmosphere can make it hard to get the photos and journaling you need for your pages. Fortunately, you can concentrate on taking the shots during the holidays and putting the scrapbook together after the season has passed. Keep these great ideas in mind as you take photos this holiday season.
The Spirit of Christmas
A page with a quote makes a nice addition to a holiday-themed album. You can write your own quotes about Christmas or use printable stickers or word art. Add a group photo of your family or friends around the Christmas tree.
Add Christmas Clip Art or Stickers
Digital scrapbooking makes it easy to share memories with family and friends. Try some digital stickers and Christmas clip art to add visual interest to your pages. This is a great way to display a favorite photo of opening gifts, sharing Christmas dinner, or any other special holiday moment.
Show a Child's Perspective
Don't forget to scrapbook Christmas from your child's perspective. Keep this in mind as you're shooting photos for you album. Get down on the floor by your child as he's enjoying the tree or opening presents. Then use multiple photos for a layout that really show this sense of childhood magic.
Trimming the Tree Tells Its Own Story
Simple embellishments and classic color schemes make Christmas scrapbooking easy, especially when the photos tell the story of your holiday. Important events like decorating your Christmas tree can stand on their own without a lot of embellishment, but if you want to add some flair, pick up some of the colors in the photos.
Christmas Mosaic With Patterned Paper
Want to add some Christmas spirit to any layout? Use a chunk of your favorite patterned paper for a fast and frugal Christmas embellishment. Choose vintage Christmas paper for even more style. When you arrange the paper in your photo mosaic, it adds cheer and sophistication.
Choose a Tree Theme
You can use the Christmas tree as the theme for your layout. Use Christmas tree templates or clip art to add tree elements to the page, or make a paper-pieced tree with some of your favorite Christmas scrapbook paper.
Meeting Santa Claus
Photos of your child meeting Santa are worthy of a special scrapbook page. Let Santa's suit be the color here, keeping everything else light and neutral. Don't forget to leave room for journaling, since part of the fun is kids' reactions to sitting on Santa's lap.
A Letter from Santa
A letter from Santa is an important keepsake for your child's scrapbook, and it makes a great addition to any album. Place the letter diagonally on the page and add photos and embellishments to set it off. Your child will love looking at this layout in years to come.
What Is Christmas?
A neutral background makes for an elegant Christmas layout and a great design for thoughtful journaling. Use the theme "What is Christmas?" as a writing prompt, allowing yourself to record your thoughts about this important family holiday. You can use a holiday font or hand write the question at the top of the page. Add a small photo and some stickers to set off the page.
A Touch of Christmas Cheer
The story behind your holiday decorations can make for an interesting scrapbook page as well. This year, as you're decorating for Christmas, take a moment to get some photos of your special decorations. You can photograph the tree, special heirloom wreaths or nativity sets, or any other item with special meaning. Then, after the holiday craziness has calmed down, make a simple layout with the photos and your memories about these items.
Set Off a Single Holiday Photo
Layouts can be about just one important holiday photos. Use colorful Christmas patterned paper and glittery cardstock to make a frame for a special photo. It can be a funny moment or something important like a family photo. Either way, this type of layout puts all the attention on one image.
Use a Christmas Gift Theme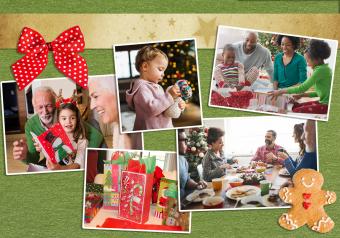 Ribbon bows and cardstock tags make your layout look like a giant Christmas present! Use several photos in a mosaic to show off the gift opening. Then add lots of bows and cardstock squares at the top of the page.
Celebrate Your Holiday Memories
Whether you're taking a break from wrapping gifts to de-stress with some scrapbooking or you're putting an album together after the holidays, this is a great way to celebrate and preserve your special holiday memories. Each photo or series of photos can have its own layout, letting you re-live the Christmas season in months and years to come.