Scrapbook Childhood Memories
Precious Childhood Memories
Scrapbook childhood memories to create a special keepsake you'll cherish for generations to come. Pages that document childhood memories tell the stories behind your photos. From your son's first joke to your daughter's favorite books, these are the small details that make a scrapbook album come alive.
Everyday Superhero
Join photos from different time periods together with journaling that reflects a common theme, such as your son's love of superheroes.
Logan
Stickers with words that describe personality traits make for easy scrapbook journaling.
First Words
Your child's first words are something you don't want to forget!
Logan's First Joke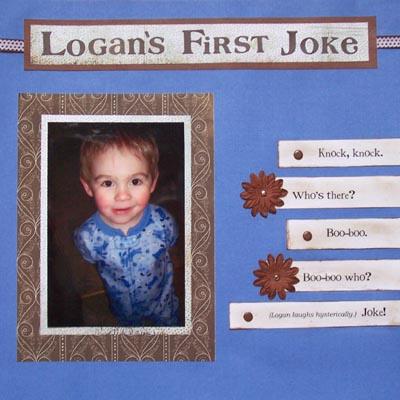 Get in the habit of taking notes so you can document the funny things your children say.
Grouch
If your child was a cartoon character, who would he or she be?
Be Alive
A grid is a great way to fit many photos on one page.
The Toddler
Pre-made products with quotes about raising children are great for when you're suffering from writer's block.
Stop!
How does your child feel about your love of scrapbooking?
Snapshots of Love
A sentimental poem makes for a great title page to your child's scrapbook album.
Childhood memories of all kinds are great to add to Birthday Scrapbook Ideas for loving, memorable gifts.