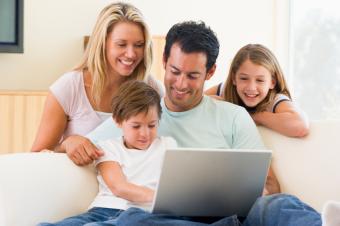 CropMom is one of the top digital scrapbooking websites on the Internet that also allows you to create greeting cards. Founder Kathryn Balint shared some unique insights about creating online albums and other helpful digital scrapbooking tips with LoveToKnow editor Kate Miller-Wilson in this exclusive interview.
How It All Began
LoveToKnow (LTK): What inspired you to start CropMom?
Kathryn Balint (KB): When I went to teach my mother how to create digital scrapbook pages, I realized how complicated it can be for a beginner. You have to not only have special photo-editing software, but you also have to know how to use it. If you want to print your layouts, you have to know about image resolution. I wanted to make it easy for anyone to create digital scrapbook pages to share on the web or to print.
Keeping It Simple With CropMom
LTK: What do you love most about your website?
KB: Its simplicity. There is no complicated software to buy, download, install and learn. Everything you need is right there on the website.
LTK: CropMom offers several helpful tutorials for digital scrapbookers who want to improve their layout and photography skills. How do you decide which aspects of scrapbooking to address in a tutorial?
KB: We're trying to cover all aspects of scrapbooking that a new user of CropMom would need to know. We started out with the most fundamental tutorials such as How to Use CropMom and just keep adding.
Digital Scrapbooking Evolution
LTK: You've been doing digital scrapbooking for a long time. How has the hobby changed over the past years?
KB: I started making photo creations that could be considered digital scrapbook pages beginning in 1997, but it wasn't until January 2004 that I discovered there was a whole digital scrapbooking community on the web. Back then, of course, there were no online scrapbooking sites. You had to have photo-editing software and most of us shared our digital scrapbook graphics. There were only a few graphic designers who sold their digital scrapbooks.
Advantages of Digital Scrapbooking
LTK: What are some of the advantages of digital scrapbooking?
KB: With traditional scrapbooking, you have to worry about cutting straight lines and making sure the glue doesn't glob on your page. There are no worries like that with digital scrapbooking. I think that making a digital scrapbook page is quicker than creating a traditional, paper one. Plus, a digital scrapbook layout can be reproduced as many times as you like. Make a page for not just yourself, but for your child's grandparents, a friend or anyone.
Tips for New Digital Scrapbookers
LTK: Do you have any tips for scrapbookers who are making the transition from traditional scrapbooking to digital layouts?
KB: If you want to give your layouts a realistic feel, make sure you add shadows to the photos and graphics. We have a button that will automatically add a shadow to whatever photo or graphic you select. Even though shadows look great on photos and graphics, I generally tell people to avoid using shadows on text.
In addition, if you're a traditional scrapbookers trying digital scrapbooking, you'll find that its easy and fun to add text to your layout. You can have a lot of fun experimenting with different fonts, font colors and font sizes. For titles, I sometimes even mix and match fonts such as one font for each letter.
When you make your first layout from scratch, be sure that you select the canvas size that is most appropriate for your project. For example, a 5" by 7" canvas size is perfect if you're making a greeting card. But if you're going to have your layouts printed by a photo service in a square photo book, then you want to use an 8" by 8" or 12" by 12" canvas. For those who are printing layouts at home, the 8" by 10" canvas size might be the right choice for you.
One more general tip is not to rotate your photos too much. A little bit of an angle is fun, but too much of a rotation on your photos makes it hard to focus on the photos.
LTK: What elements do you feel are part of every great digital page layout?
KB: A strong focal point. Usually, that focal point is a photo that is larger than other photos on the page. Sometimes though, the focal point can be a grouping of smaller photos. Even the simplest of digital scrapbook pages can be aesthetically pleasing if it has a strong focal point. That said, I love to pile lots of digital scrapbook graphics on my pages. I'm especially fond of word art, which is a word or phrase written in a fancy style. At CropMom, we have lots of word art that you can just drag and drop onto your layout to give it a more finished look.
Coming Up for CropMom
LTK: What's next for CropMom?
KB: We're working on creating some video tutorials to help our new users better understand how to get the most out of CropMom. In addition, we've got some terrific new scrapbook kits, including one with a beach hut and beach backgrounds, that we'll be adding soon.
Online and Digital Scrapbooking
Scrapbooking offers you a rich creative way to encapsulate memories and important events. Online digital scrapbooking can be enhanced and made easy through websites like CropMom. You can quickly discover a new world of flexibility and design freedom through digital scrapbooking, so if you've been afraid to venture into this realm of your favorite hobby, you may want to visit this helpful website and get started by reviewing one of their many tutorials.