Cat Themed Scrapbook Page Ideas
Many scrapbookers consider their pets to be part of the family, so it's only natural to want to devote a few layouts to your favorite feline friend. There are several different ways to approach creating cat themed pages, so you can choose a method that best suits your personal scrapbooking style.
Fun Cat Scrapbook Ideas
The process for creating scrapbook pages featuring your cat is much the same as scrapbooking any other member of your family. You can add embellishments featuring images of cats, fish, paw prints, and balls of yarn, but these should not be the focus of your page. Choose one or two themed accents for each page so your cat remains the star of your layout.
Pure Love
What do you love most about your cat? Whether it's the constant companionship or her playful nature, honor your kitty's special personality in a fun scrapbook layout.
Download the clip art used in this layout, pictured above, at the Clip Art Pal website to add to your digital scrapbook layout. If you'd prefer traditional paper scrapbooking supplies, the Meow Collection from My Mind's Eye at Scrapbook.com offers a modern look for your scrapbook layouts. This kit includes cat themed patterned paper and stickers as well as brads, buttons, and rickrack. You can also find a large selection of cat themed items at A Cherry on Top Scrapbooking Shoppe.
Strange Habits
Does your kitty have any unusual quirks? Habits such as sitting in your bathroom sink or hiding toys in your shoes make great topics for your cat-themed scrapbook page.
This layout's design picks up its color scheme from the gray of the cat's fur. The gray striped paper is fairly subtle, but the yellow frame adds visual appeal. The cat clip art was added to the digital brad image to help reinforce the theme of the page.
Kitty with a Message
Photograph your cat next to a sign to make an adorable scrapbook page. You can have your cat wish everyone a Merry Christmas or have kitty announce that your family will soon be getting a new baby. Decorate the page with festive embellishments that reflect the theme of the announcement, and include some journaling about the message or how your cat might feel about it.
A Stylish Kitty
Who could resist a kitty in a silly outfit? If your cat is cooperative enough to dress up for you, take lots of pictures for your layout. Cats dressed up for Halloween are especially cute because there are many black cat embellishments found in Halloween themed scrapbook kits. Vintage Holiday Crafts has several black cat themed graphics to choose from.
Cats and Kids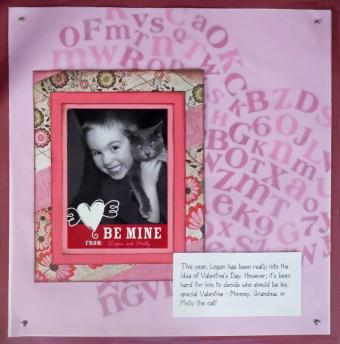 Many cats will resist being photographed with people, but a layout featuring your cat with your children will be a priceless keepsake for future generations. Use lots of heart embellishments to show the love your child has for the family pet. Create an alphabet sticker heart in the background of this layout, or try making a heart shape with the tiny paw print stickers on the Oriental Trading Company website.
Creating Layouts You'll Cherish
With great photos, meaningful journaling, and a few well chosen embellishments, you'll be on your way to making a cat scrapbook page that you'll cherish for many years to come. Use these methods to create layouts that reflect the unique personality of your cat.