Dance Scrapbook Layout Ideas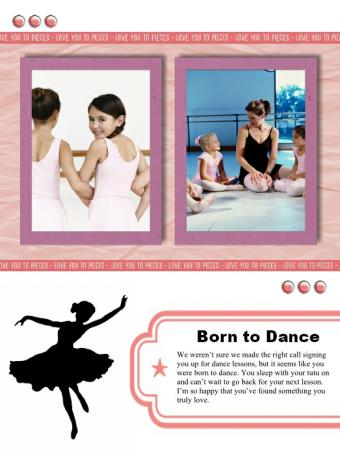 Between their beautiful costumes and their graceful movements on stage, dancers make the perfect subject for a creative scrapbook page. Pay tribute to the special dancers in your life with these unique dance layout ideas.
Ideas for Children's Dance Scrapbook Pages
If you're a parent looking to scrapbook photos of your child's dance practices, recitals, or competitions, here are some page topics to help you get started.
Born to Dance
Why did you decide to enroll your child in dance? As an infant, was she easily soothed by images of dancers on TV? Did you need an outlet for her constant twirling and spinning? Write a note to your child to include on this "Born to Dance" scrapbook page, pictured above. Use Moxxie's Born to Dance scrapbook paper to create a special keepsake she'll cherish for many years to come.
Dance Like Nobody's Watching
For many parents, watching their children behave in a carefree, uninhibited manner is inspiring. Make a page that discusses your little dancer's resiliency and willingness to try new things even when she makes a few mistakes along the way. Scrapbook.com's acrylic mounted ballerina stamp would be the perfect accent for this fun scrapbook layout.
Dancing Is Like Dreaming With Your Feet
For creative children, dancing often provides a way to express thoughts, feelings, and dreams that are hard to put into words. There's a fabulous teal and black digital scrapbook kit in the Digi Scrapbook Delights Etsy shop that contains a word art image with this page title, and includes images and text featuring different types of dance such as ballet and jazz.
If the Music Is Good, You Dance!
Recital pictures are going to be a huge part of any dance-themed scrapbook album. To showcase your favorites, Epson's Creative Zone has a free assortment of dance themed scrapbook papers and graphics that can be used for digital scrapbooking like the layout pictured above, or printed onto cardstock for traditional paper scrapbook projects.
Eat. Sleep. Breathe. Dance.
If your dancer regularly competes or performs at a high level, discuss what a typical week in her life is like. Decorate your page with a sample schedule, a few clock embellishments, and some dance themed words and phrases from the Me & My Big Ideas foil covered chipboard embellishments.
Ideas for Adult Dance Scrapbook Pages
Creating dance themed pages for an adult can be challenging as most supplies are made with children in mind. If you're an adult dancer, look for scrapbook supplies with more muted colors to give your dance pages a sophisticated look.
I Only Try to Dance Better Than Myself
Russian-American dancer and choreographer Mikhail Baryshnikov once remarked, "I do not try to dance better than anyone else. I only try to dance better than myself." Pay tribute to his words of wisdom with a page showcasing some of your favorite dance practice photos. You can download a free word art image of this notable dance quote at Bits of Positivity.com.
You Have Not Witnessed a Real Workout...
There's no doubt that dancing burns a ton of calories, so consider making a page dedicated to the role of dance in your weight loss goals, titled "You Have Not Witnessed a Real Workout Until You've Watched a Dancer Practice." Discuss how finding an activity you enjoy has made it easier to stay in shape. If you're feeling brave, document your weight loss journey with dance photos covering a time span of several years. Accent your page with a border of stenciled dancers from Donna Downey.
If You Stumble, Make it Part of the Dance
This scrapbook page provides a chance to take a different look at your dancing journey. Discuss some of your dance related struggles and what you've learned from your past mistakes. For example, does overcoming your fears to perform on stage make you more fearless at work? Embellish your page with the understated epoxy dance words and music note stickers from Fiskars.
When In Doubt, Dance
If dancing is your favorite form of stress relief, consider making a scrapbook page that documents how all your cares seem to drift away when you slip into your favorite leotard. Gotta Pixel has a sophisticated dance themed digital scrapbook kit that includes a word art image with this page title, as well as fabric flowers, frames, ribbons, bows, buttons, dance charms, and dancer silhouette embellishments for a colorful and fun layout.
Dance Is Music Made Visible
As an adult dancer, there are undoubtedly several people who've influenced your technique. Make a page devoted to your favorite dancers whether they're past teachers or people you've had the pleasure of seeing perform live on stage. Discuss their unique styles and what lessons they've taught you through their own love of dance and include lots of pictures. Papers from Kaisercraft's On Stage Collection would be perfect for adding a vintage feel to this type of scrapbook layout.
Showcase Your Creativity
Dance, like scrapbooking, is an art form of its own. This means your dance layouts are the perfect place to experiment with new techniques, color schemes, or journaling ideas to create a one-of-a-kind keepsake. Don't be afraid to try something new in pursuit of a layout that will be remembered long after the curtain closes!