Mother's Day Scrapbooking Ideas
Mother's Day is a great source of inspiration for scrapbookers. Whether your family celebrates with breakfast in bed or a brunch out on the town, you can record your memories in a special scrapbook layout.
Creative Mother's Day Scrapbooking Ideas
Make your Mother's Day even more meaningful by preserving your memories in a scrapbook. Be sure to take lots of photos of the special day, so you have plenty of material to work with when you create your layouts.
Mother's Day Morning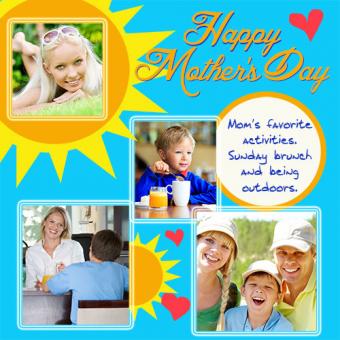 Many families have breakfast or brunch celebrations for Mother's Day. If your family honors Mom with breakfast in bed or a meal at her favorite restaurant, create a morning-themed layout.
Choose a background paper in Mom's favorite color, and use yellow cardstock to create a large sun shape. Affix the sun to the corner of the scrapbook page and then place a photo of Mom on the sun. Around the sun, scatter photos of the family enjoying their morning meal together. Be sure to leave plenty of room for journaling.
Fun and Flowers
Flowers are a great way to show your love on Mother's Day. Whether your family celebrates with a big bouquet from the florist shop or spends the afternoon outdoors in the spring sunshine, be sure to get lots of pictures of blooms.
To create a flower garden layout, select a floral scrapbook paper for your background, and then choose solid cardstock in coordinating colors. Cut large flower shapes out of the cardstock and place them along the top part of the page. Cut round photos of each child and place them in the centers of the flowers. Along the bottom of the page, place photos of the family together on Mother's Day. Finally, use a green acid-free marker to draw stems and leaves.
Show a Little Love
Mother's Day is all about showing Mom how much you love her and appreciate all she does for the family. To make this special page, capture images of each family member hugging or kissing Mom.
Choose a background paper that complements Mom's outfit. Then, arrange the photos randomly on the page, using decorative borders to give them a little extra visual interest. Under the photo of each child with Mom, write what the child loves most about her.
Mother's Day Greeting Card Scrapbook
Greeting card scrapbooks aren't just for Christmas and birthdays. You can create a special Mother's Day card scrapbook with all the cards Mom has received over the years.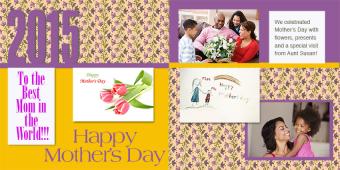 To make this scrapbook, arrange the cards by the year Mom received them. Choose a pretty background paper and make a two-page layout with the cards. Be sure you affix the cards in a way that allows you to open them. Write the year at the top of the page and include photos of that year's Mother's Day celebration. Make a two-page layout for each year.
Mom and Her Gifts
Your family may celebrate Mother's Day by showering Mom with little presents. You can preserve your gift-giving memories with a scrapbook page devoted to this tradition.
Make a gift layout for each child. Start by creating a flip-open present out of a square of cardstock decorated with ribbon. Attach the present at the top only so you can lift it up to see what is underneath. Inside, place a photo of the child. Include photos of Mom opening that child's gift and leave journaling space for impressions about the day.
Scrapbooking Gift Ideas for Mother's Day
Creative layouts aren't the only way to celebrate Mother's Day with scrapbooking. If Mom is a scrapbooker, make some fun scrapbooking-themed gifts for her. Consider some of the following ideas:
Make a scrapbook kit that includes some of Mom's favorite colors. Choose coordinating papers and embellishments, and remember to add basic supplies like photo corners and decorative scissors.
Have the whole family go in together to get Mom a new digital camera and some digital scrapbooking software. Since digital scrapbooking is faster than traditional paper scrapbooking, this may be the perfect solution for a busy mom.
If you need a gift for a new mom, assemble all the supplies for a baby scrapbook. Include an album, baby-themed embellishments, and lots of fun, printed papers.
A Special Way to Celebrate
Whether you want to create a layout to honor your mother or you're a mom who wants to preserve her own Mother's Day memories, scrapbooking is a great way to celebrate this important holiday. Be sure to incorporate your own creative ideas to make layouts that are as unique as Mom.